Grand Lake, Boardwalk and Town Square
The drive along Lake Granby and Shadow Mountain Lake can be impressive.
However, you really have not seen or experienced Grand Lake itself until you
have driven all the way into Grand Lake Village and then taken the right-hand turn
at the end of main street to the beach! The Mountain Lake Properties office is a block
from the beach, on your left as you drive by, or better, park and start your walking tour.
Below is a tour of Grand Lake's Boardwalk and Town Square. Scroll down for a tour of the beachfront!
Click the arrows below the slides to move to the next slide or go to a previous slide.


On Grand Lake, there are two marinas, a fishing dock and public docks for boaters a few hundred feet away from the sandy beach, a great place to enjoy events! A channel runs from Grand Lake to Shadow Mountain Lake. Overnight boat camping is not allowed at the public docks in Grand Lake. For that, we recommend that you launch onto Lake Granby and explore its very long shoreline and variety of beaches and coves.


Click here for more videos and photos from around the area
This map shows the thousands of acres of National Forest and National Park - about 85% of our part of Grand County is public land. This assures us that - although there are still vacant lots to be built on, this can not ever be like Winter Park or Summit County, where you see more condominiums being built every time you drive through.. Enjoying Life in the heart of so much open space keeps Grand Lake special.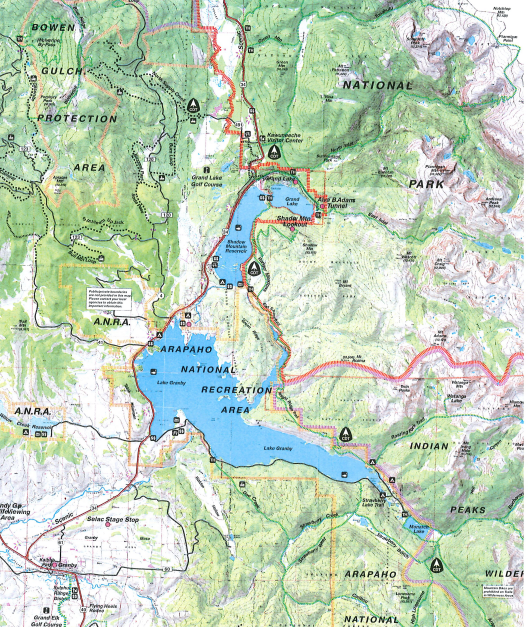 Click here for more photos of Grand Lake
Click here for a Tour of Shadow Mountain Lake
Click here to find your mountain home
Click here for land to build your dream home